Registration – Registration Fee & Abstract Submission
1st. ISME-LATIN AMERICA CONGRESS Technical University Federico Santa Maria Valparaiso, Chile 11 - 13 September 2019
REGISTRATION
Registration, payment of registration fee and abstract submission to the 1st ISME-Latin American Congress are exclusively performed through the online platform.
The first step of this process is to register in the platform by creating your personal account.  Once registered you will be able to create, edit and submit your abstract, and pay your registration fee.
CREATING YOUR ACCOUNT
To register to the 1st ISME-Latin American Congress please create your account following these guidelines:
1) If you have a 4ID Congress account log in with your information HERE
2) If you do not have a 4ID Congress account create your account HERE
3) Log in with your account HERE
4) Fill out your personal information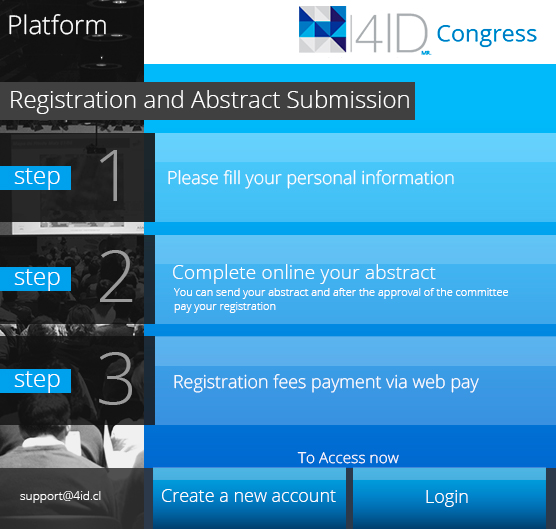 For registration, click on Create new account in the image. If you already have an account, log in to access the platform.
If you have any questions, do not hesitate to contact us at the e-mail support@4id.cl
---
CATEGORIES
Attendance and participation in the 1st ISME-Latin American Congress is possible by adhering to one of the following categories:
Researchers and Faculty members
Undergraduate students, graduate students and postdocs
(*) Undergraduate and graduate students will be required to upload a regular student certificate from his/her institution at the time of registration.
Registration Fees (in American Dollars and Chilean Pesos)
Registration Period / Dates
Researchers and Faculty Members
Undergraduate students, graduate students and postdocs
Early Bird
Until July 31st, 2019
Regular Registration

From August 1st through August 31st, 2019

Late and Onsite Registration

From August 31st onwards
Registration fee includes attendance to all academic activities, congress material, welcome reception, lunch, coffee breaks and closing ceremony.
Cancellations must be required in writing to the Organizing Committee until June 30th, 2019.  A 15% discount on the value will be applied for reimbursement purposes.  After that date the discount cost will be 50% of the value.
Cancellation requests will not be accepted after August 10th, 2019.
PAYMENT OF REGISTRATION FEE
You can pay your registration fee by following these guidelines:
1) Access Pagos
2) Click on the ítems you want to pay for
3) Click on continue with WebPay
4) Verify your order and go to WebPay. Once in WebPay enter your card information
5) Once the process has been finalized you will receive via email your acreditation ticket and receipt